Add ultimate electric power to your mountain bike
The new 2021 Hyperdrive will transforms your bike into a new level of electric performance.
We are producing a small limited run to kick off the 2021 season early.  
Secure yours with a $150 fully refundable deposit
45/50 left
$3998.00 USD - shipping starts Oct 30, 2020
NEW FEATURES
A new, high precision gear reduction system that creates a smooth, quiet ride.

A patent pending quick release interface system that allows the Hyperdrive kit to be easily added or subtracted from your bike

Two power modes: Respect mode - 750 watts and Hyperdrive mode - 3750 watts*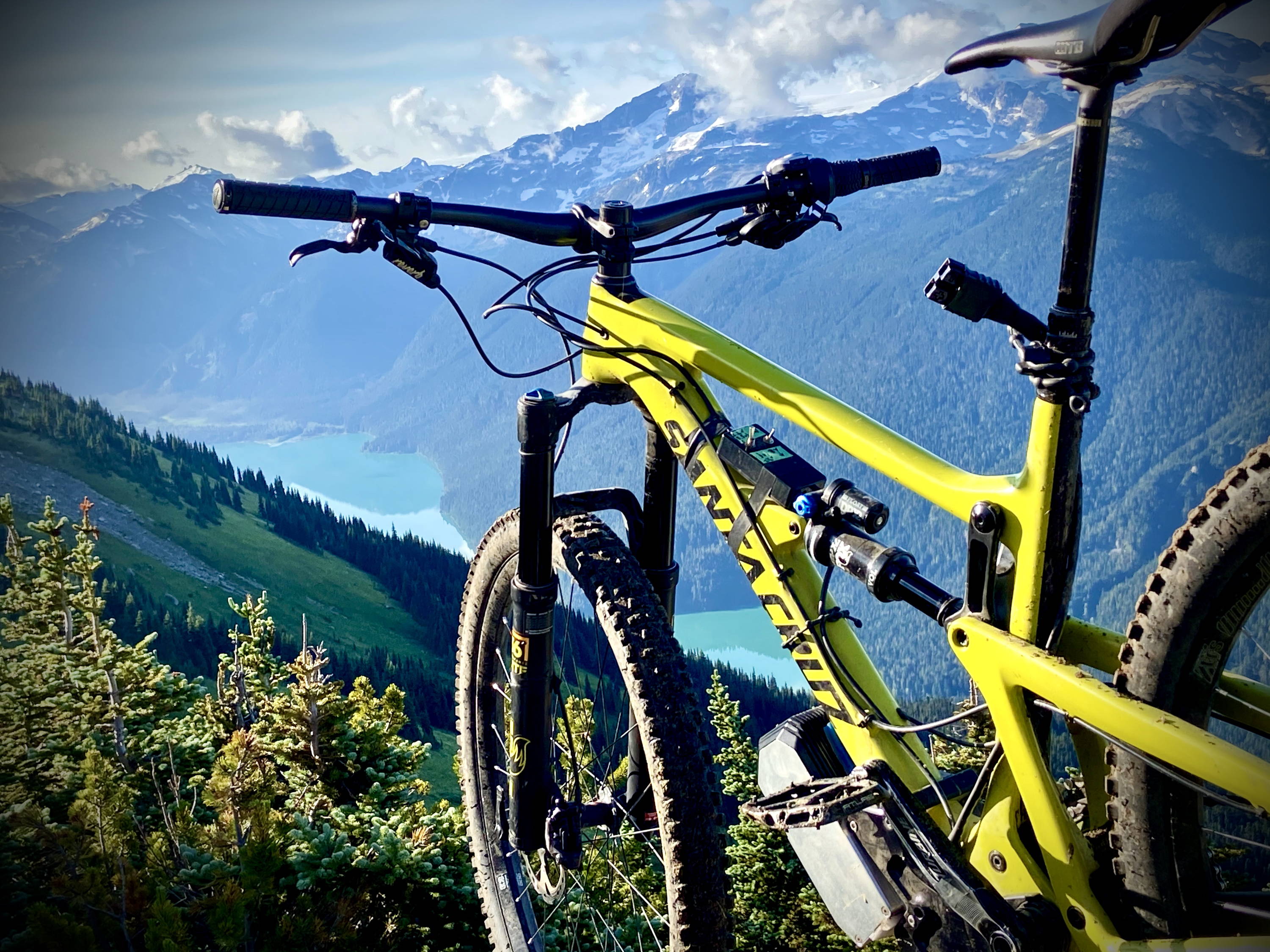 The Hyperdrive has been designed from the ground up to house our own custom, high precision gear reduction system. This is a dream come true for us here at Kranked Bikes. With this major design upgrade we have created a precision electric motor drive that outputs industry leading power smoothly and quietly. The ride experience is truly worthy of today's amazing mountain bikes. In our quest for making the highest performance electric bikes on the planet, the new Hyperdrive hits it to the top of the mountain!
Transform your mountain bike
YOUR BIKE + . Transform your state of the art DH, Enduro or Trail mountain bike into a high performance electric. Everything you love about your bike; the pedalling, the ride feel, the suspension kinematics, the handling, the braking, the cockpit etc, all remains the same. The transformation is the Total Rider Controlled on demand power. This power can add anywhere from a little boost to get you up the hill or at it's peak will let you 'downhill the uphills.'  The system is designed to retain the ability to pedal without any power, pedal with as much or as little power as you choose or just use the power without pedalling. Total Rider Control. TRC on YOUR BIKE +

Dual Sport = YOUR BIKE+. Your bike can be both deliciously analog or mind blowing electric! Change it from analog to electric and back again at your whim. One bike, 2 uses! Want to enjoy the sport of mountain biking with your mountain bike friends? YOUR BIKE. Want to enjoy the sport of electric mountain biking? YOUR BIKE+. The Hyperdrive kit can be added or subtracted in under 10 minutes.* It   also allows for easy maintenance, repair and transference to other bikes
The Hyperdrive performance sets a new reality for the industry! The Hyperdrive is the result of 8 years of extensive R&D. Hyperdrive V5 boasts a brand new gear reduction system that is super precise like a Swiss watch. Also new is the two power modes. Respect power mode is designed to enhance the pedal cadence and adds 750 watts (nominal) of assist to the ride. On this mode the bike is very similar in power rating to the industry standard Class 1 mountain bikes. Normal mode = On demand 3X power assist, The second mode is the Hyperdrive mode. Flip the switch into Hyperdrive and access up to 4400 watts (peak) of hair straight back superhero power! Hyperdrive power = On demand 11X power. 
TRC philosophy is that the rider should have all the control, all the inputs into what the bike is doing at all times. Kranked does this by letting the rider control the translates into the Hyperdrive being controlled via a throttle. Unlike other systems that have a pre-programmed power setting that is only activated when you pedal , the Hyperdrive allows you to pedal with no power, to pedal and add however much power you need at any given moment (100% needed on trails) or to just use the throttle (moto) to boost over technical sections without the fear of pedal strikes. It's a key component to the enhanced performance. Total Rider Control! Why settle for anything else?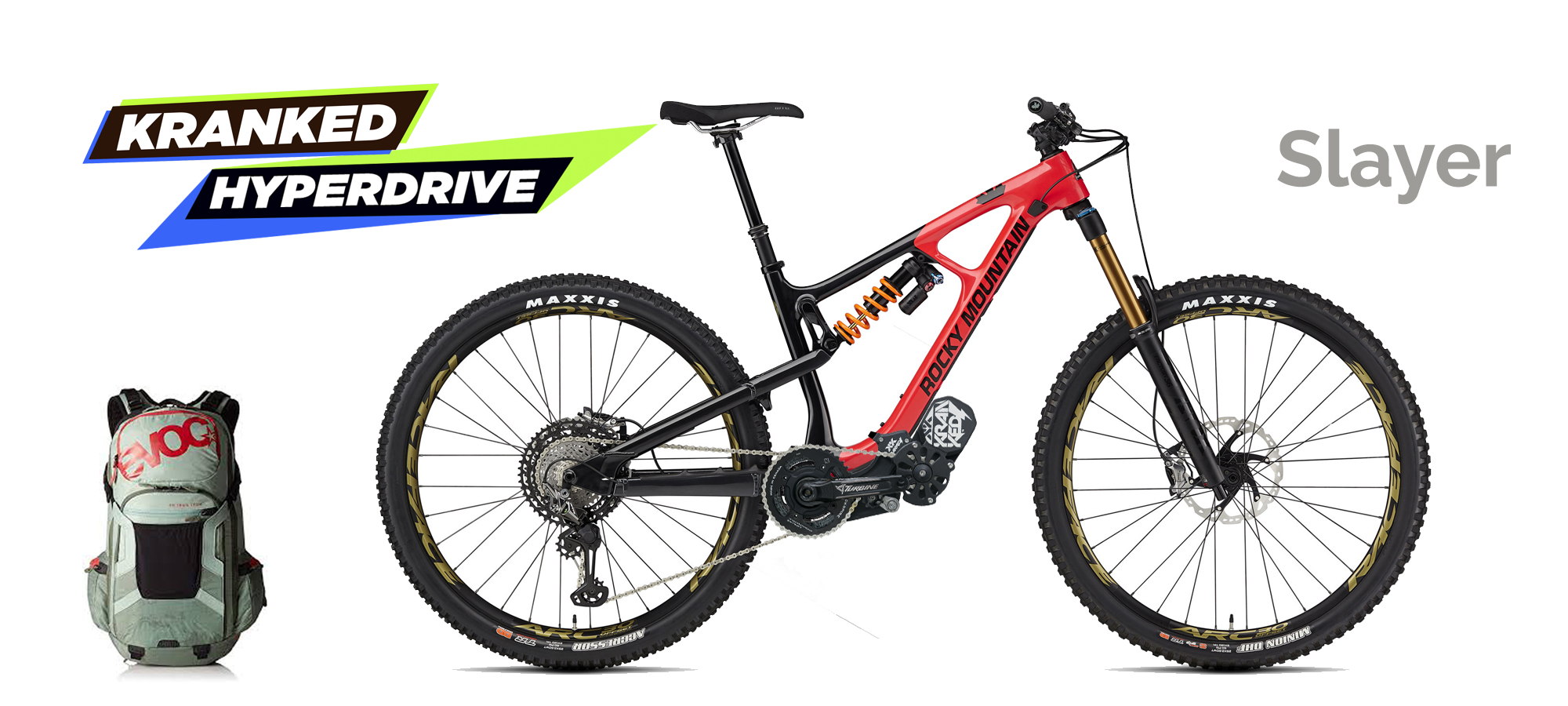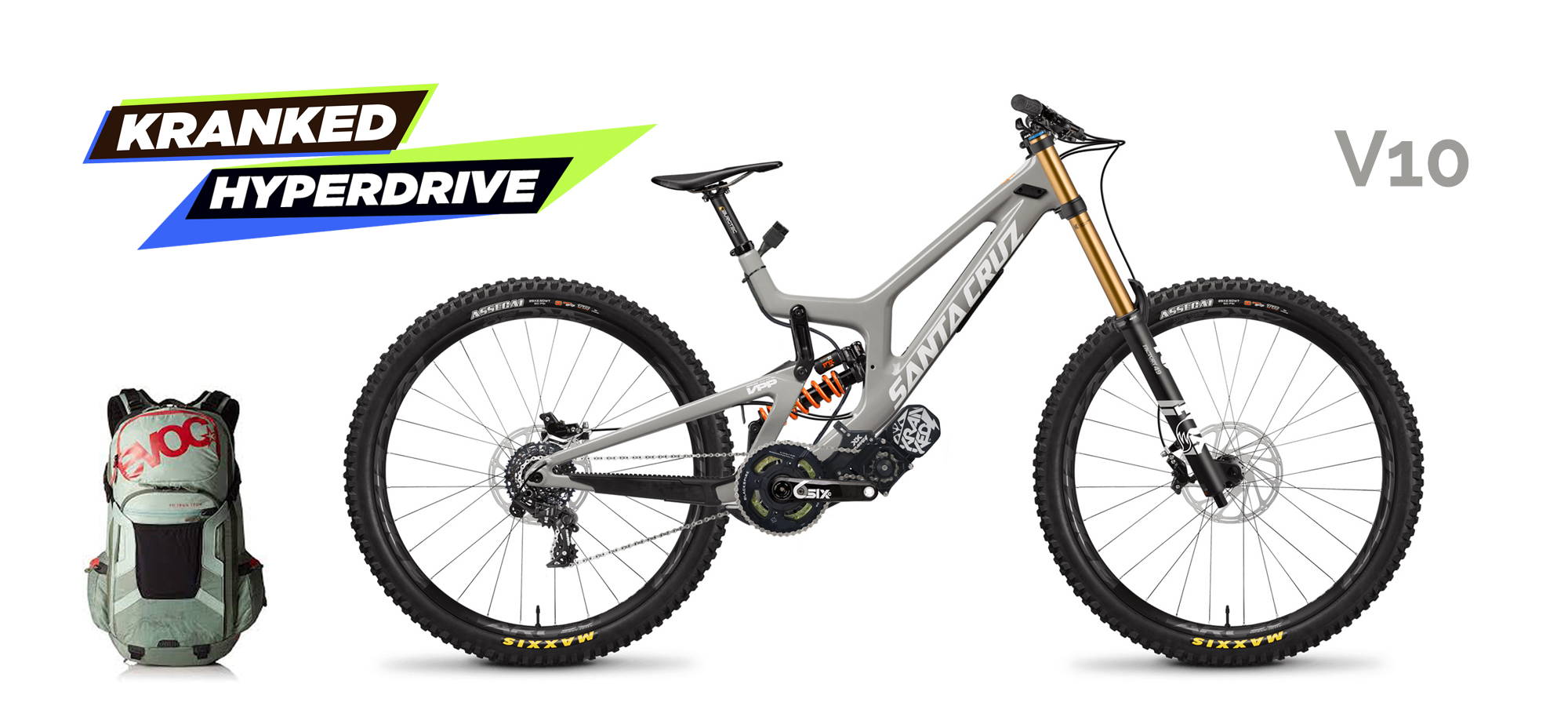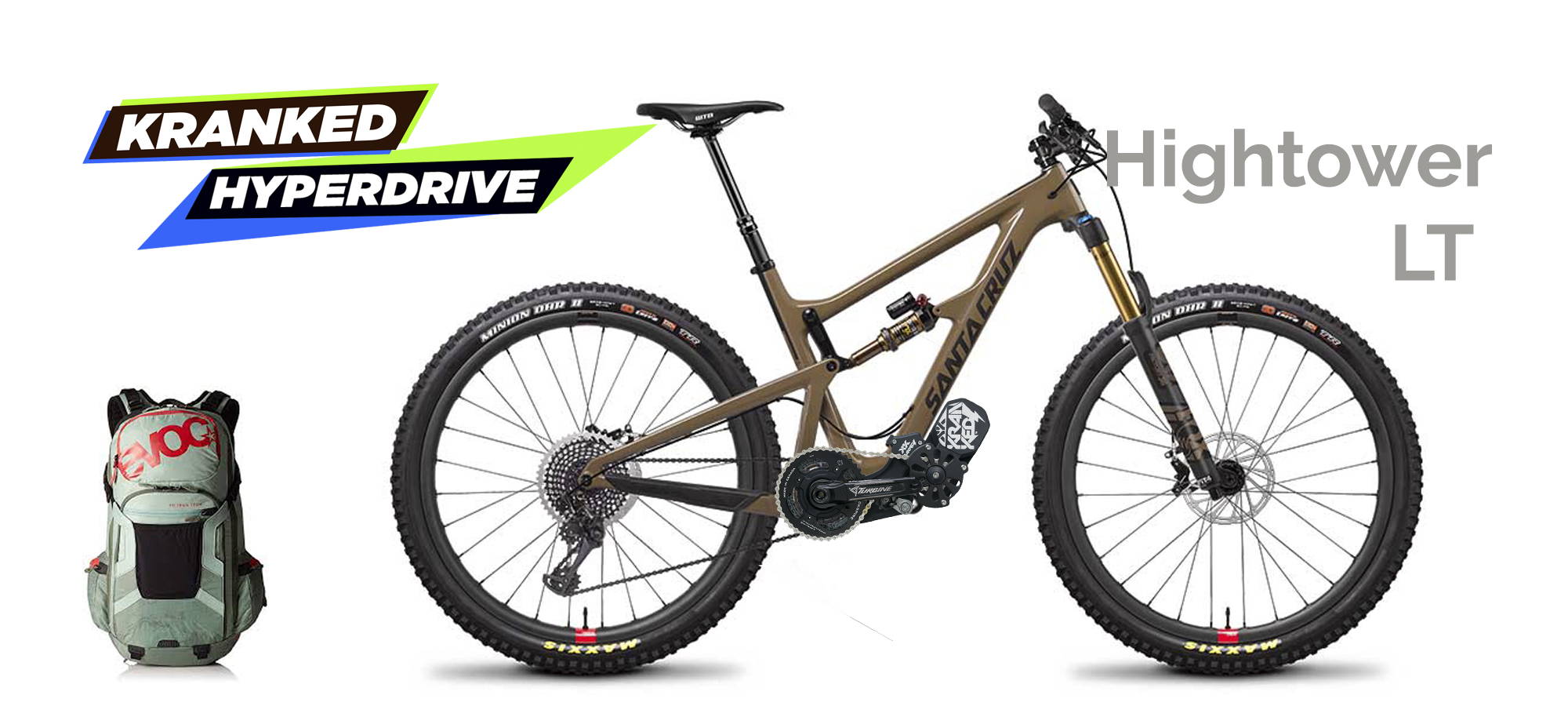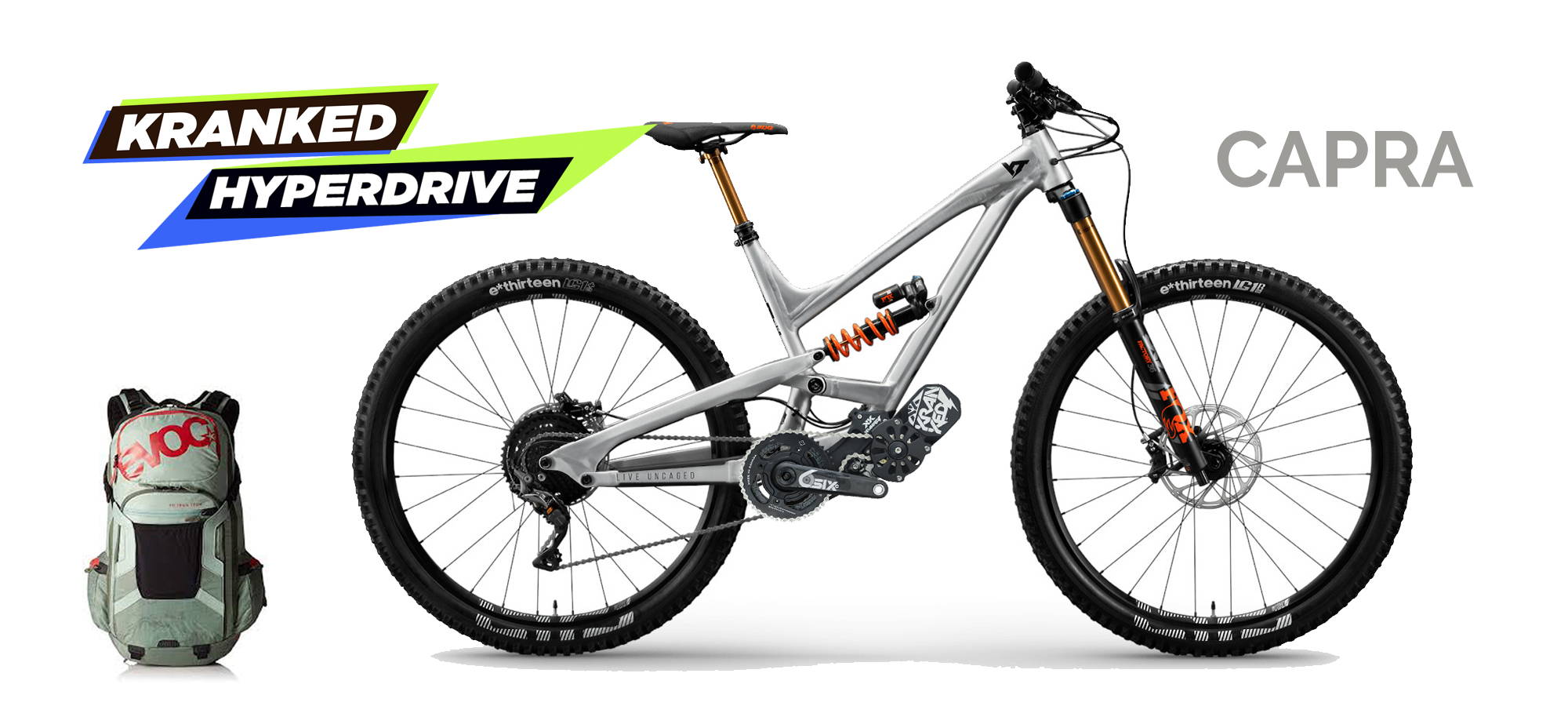 The Kranked Interface (KI) is a patent pending piece of genius that fits most DH, Enduro and trail mountain bikes. Kranked has developed 8 different KI's to fit the 4 different bottom bracket widths, in both a straight and and bent configuration to fit the different down tube styles of todays mtbs. The Ki can fit 73mm, 83mm, 92mm, 107mm bottom brackets!
Hand Crafted In small batches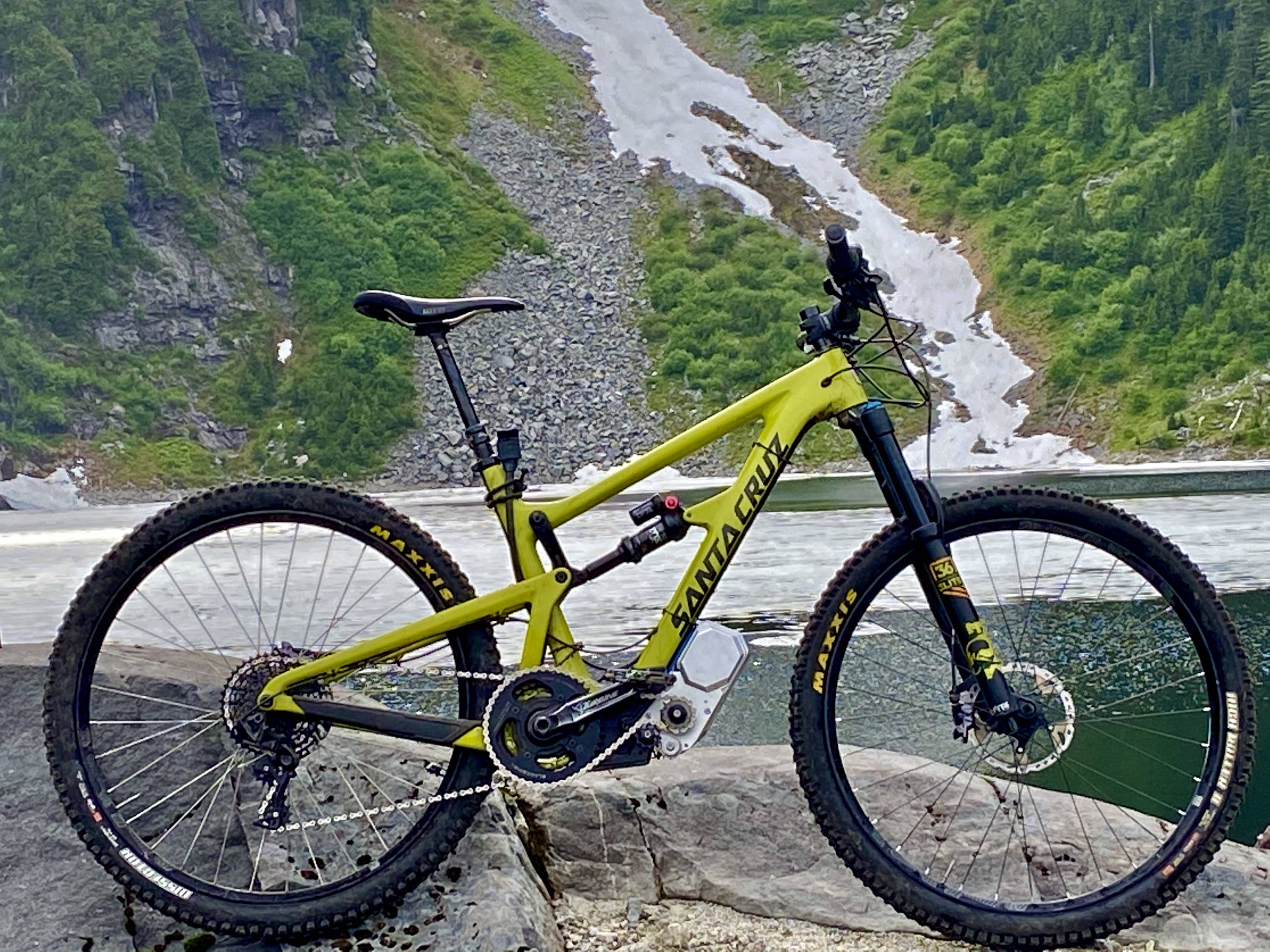 Handcrafted in small batches in the mountains of BC. Over the years Kranked has built over 150 high performance emtb's, most of them with our own in house manufactured drives. Now we are ready to handcraft a limited run of 50 Hyperdrive 5's and invite you to experience our pride and joy. Kranked is set to once again show the industry true performance and give it some new adrenaline culture to capitalize on! This isn't a motor made and lobbied for by a German dishwasher company, no freakin way! This is designed, tested and developed by Kranked. Ride Hard Ride Free!
The Hyperdrive Kit consists of four main assemblies. It is modular in nature, allowing for customization to fit the majority of bikes on the market. The 4 assemblies are:
Hyperdrive Motor, Kranked Interface, Krankedset, and Kranked Battery.
You will need to configure specific variations of the Kranked Interface and Krankedset in order to get a true fit with your bike.
This can be a challenge so we are here to help you and ensure the high performance conversion goes smoothly. Part of our goal with this next 50 kits is to help install it on bikes we have not yet installed on. Please email us what bike you would like to electrify and we will confirm the configurations needed. info@krankedbikes.com
Secure yours with a $150 fully refundable deposit
45/50 left
$3998.00 USD - shipping starts Oct 30, 2020
---